The World's Fastest Indian Insight
After my usual search for Insight stuff on the eBay, I saw something very interesting. Because Honda spent so much effort making the Insight the most aerodynamic car on the road, I always wondered how it would fare on the Bonneville salt flats if it had a more powerful engine. Here is the text from an eBay auction for the power system from a Honda Insight that was being customized to answer my question.
Would you like to help a retired New York City fireman go 200MPH at Bonneville? I do, so I'm listing this original 2000 HONDA INSIGHT engine, electric motor, with battery back ECU ,with only 43 Thousand miles on it for him. All these components were professionally removed from a very nice licensed and registered 2000 HONDA INSIGHT in preparation to converting the car into a LSR car. The #343 Insight in LSR trim does hold a record at MAXTON at 143 MPH, your winning bid on this original power plant will help get the car over its projected goal of 200+ MPH. Thank you! Good luck with your bids!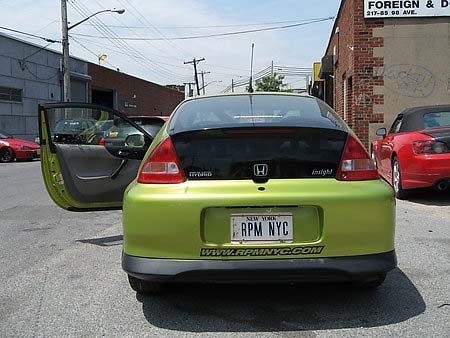 Intrigued, I contacted the owner, Bob W. through the seller for more information and photos. As you can see, his Insight is painted in the "green" color available only in 2000. Bob has carried the color scheme forward with the chrome moly tubing he's added inside. Here's what he told me:
The engine is highly modified Acura GSR with Garret Turbo, makes 600hp at 22 lbs boost. For safety and to replace the original structural members are over 60 feet of Chrome Moly. It has a fire extinguishment system both for driver and engine compartment. In place of a passenger seat is a 10-gallon air/water intercooler tank. I dropped the front end to one inch, stiffened the belly pan, and made the mirrors removable. Currently I am going over the entire outside to batten down the panels. We had a sail panel, the long thingie over the door go airborne at Maxton at over 140mph. It is equipped with a parachute as must all cars that go faster than 200mph. The tires are Kumho ECSTA MX 205/40/17 rated over 200mph, shaved. The car currently weighs about 1600lbs, has a coefficient of drag of .24 and is technically capable of over 240 mph. All we have to do is keep it straight and down for a mile or more.
Looking at the photos, I see that the windshield wipers have also been removed. They probably don't work very well at 200 mph anyway. I really appreciate that Bob hasn't made any major aerodynamic changes, such as adding a giant rear wing, so we will be able to see how fast Honda's slippery body design can go.
Good luck, Bob! After seeing the fabulous movie, "The World's Fastest Indian," I can't wait to hear how fast you go and what it was like. But Bob, lose that antenna, I'm sure it's robbing you of at least 5 mph.
By the way, the Insight's engine, battery pack, and associated electronics received 21 bids on eBay and sold for $1,727. I contacted the buyer to ask him about how he intends to use these parts. He replied:
I'm a retired engineer and have always wondered how stuff works. A friend had this little red Honda Insight that was totally dead electrically. No 12v or 144v power anywhere. The dealer estimated a repair cost of $4500 to replace everything in the back. The drivers door had also stopped a large buck deer crossing the road. The door lost and was actually penetrated. I bought the car with 176,000 miles on it for $400. The dead electrical system was two broken ground straps in the engine compartment and the door repair was $750. I have driven the car about 7500 miles since repairing it and also love the car. The engine is a little noisy and the battery system is discharging more rapidly than at first so a refit seemed logical. This system from the LSR car will allow me to replace components as needed to keep the little car running for a long time.
It's great to hear these parts will enable another enthusiastic owner to improve his Insight and continue enjoying it's unique capabilities. This is a win-win situation if ever there was one!