Lightweight Aluminum Body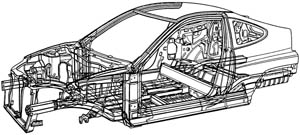 With its Acura NSX sports car - the world's first mass-produced aluminum-bodied vehicle, Honda was a pioneer in the use of aluminum in automobiles. This considerable experience was applied to the design of the Insight in order to create a new type of lightweight aluminum body that offers a high level of body rigidity and advanced safety performance. Stamped aluminum sheets, extrusions and die-castings are used to form a body that is both light in weight and highly rigid. The Insight's aluminum body is 40 percent lighter than a comparably sized steel body.
In addition to being light, the Insight's futuristic-looking aluminum body is also highly aerodynamic in both its shape and details, and boasts one of the lowest coefficients of drag (0.25) of any mass-produced automobile sold worldwide.
Thanks to its aerodynamic body, the Insight requires approximately 30 percent less power to operate at highway speeds than a conventional automobile of similar size, such as the Honda Civic.